Freight Brokerage Sales will become second nature.
Gain knowledge in the Logistics Industry
Mentorship from our top home-grown leader on how to be successful.
Master negotiation and closing deals.
Leverage our carrier network to provide quality service and drive revenue.
Take charge of client service issues to the point of resolution.
Manage effectively with knowledge gained from all areas of our business.
The Perfect Leader for PLS has:
Bachelor's degree in a related field.

Adaptability and a "roll up your sleeves" mentality.

Ability to relocate to any one of the PLS branches across the country upon completion of the program.

Entrepreneurial spirit and the "hustle" gene.


Leadership Experience - In the classroom, on the playing field, or anywhere else!

On-campus Involvement Experience (ex. Greek Life, fundraisers, community service)

Networking and Public Speaking Experience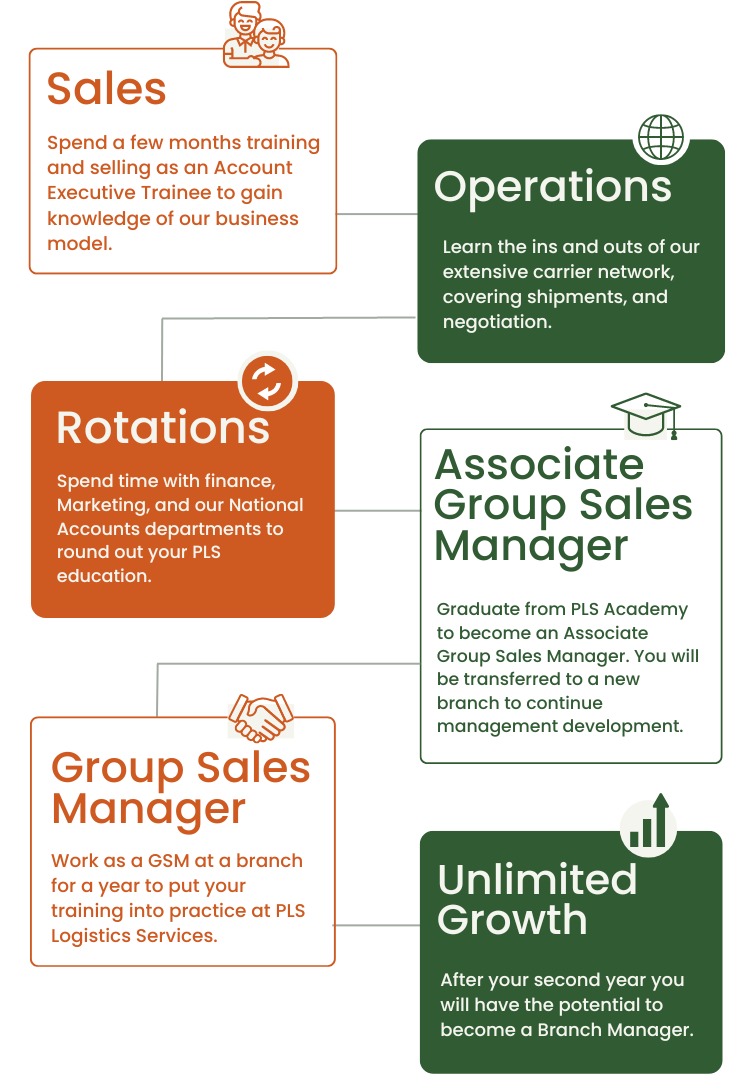 Emerging Coach Program
The Emerging Coach Program is a 4-month rotational program to learn the sales tactics, operations, and corporate responsibilities of an Associate Group Sales Manager (GSM) at PLS Logistics. GSM's are responsible for the revenue growth and professional development of Account Executive Trainees.

This is a fantastic opportunity to fast-track your career in management while receiving on-the-job training in every aspect of a rapidly growing organization:
Months 1-2: Sales training
Month 3: Operations training
Month 4: Corporate rotations and program graduation

This role will be based at PLS's corporate headquarters in Cranberry Township, PA, for the first four months of training. After your four months of training, you could end up at one of our awesome 7 office locations.
Reach out to one of our Corporate Recruiters with Questions